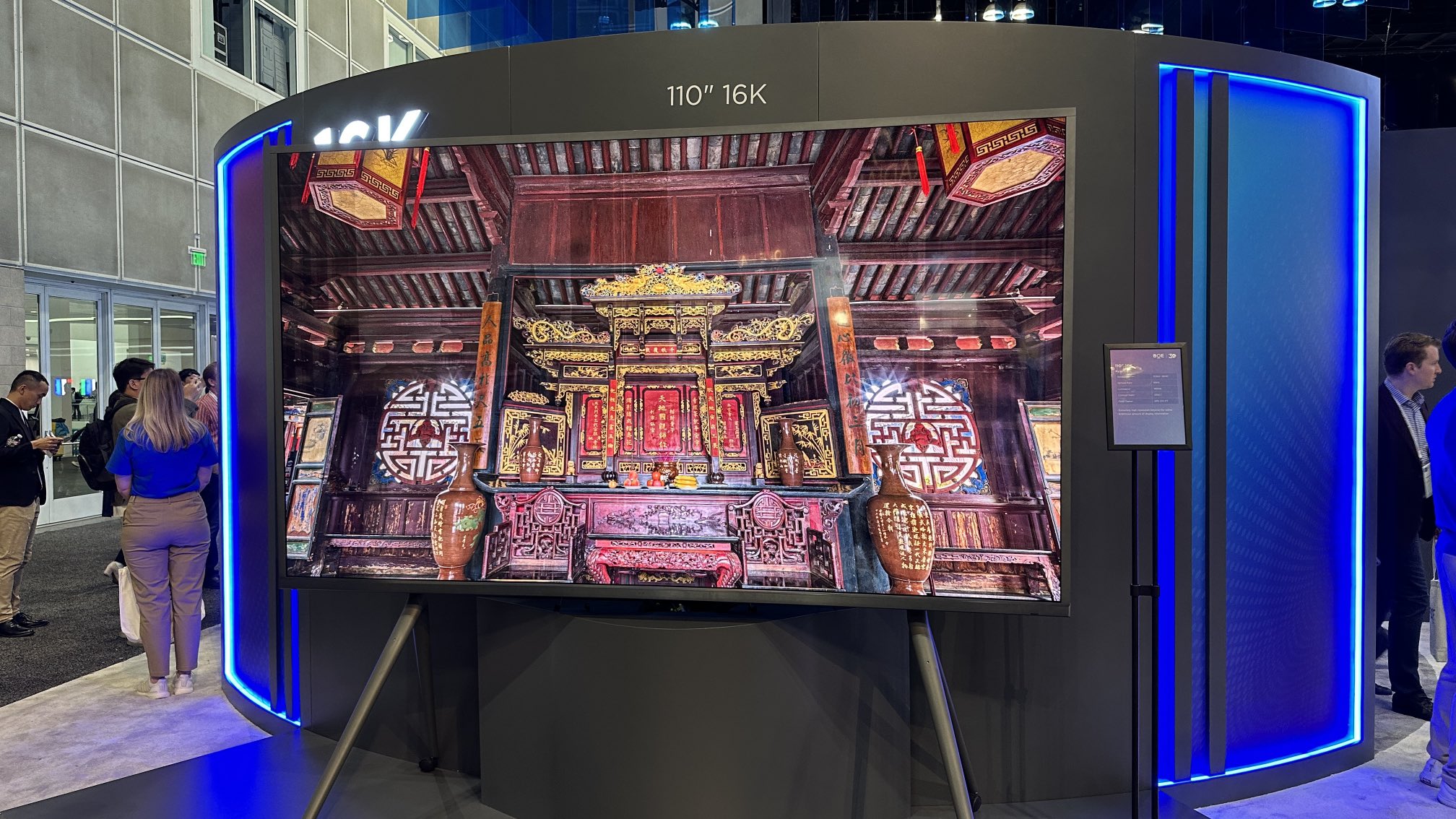 Chinese display behemoth BOE showcased a 110-inch 16K display at the Display Week 2023, hosted by the Society for Information Displays (SID). Journalist veteran, Vincent Teoh from HDTVtest, came across the prototype and posted the specs of the beast: 60Hz refresh rate, 400 nits maximum brightness and a contrast ratio of 1200:1. 
These are average specs for a panel, which underlines the fact that the standout feature is its 16K resolution. The panel is likely to be an uncut mother glass as it is equivalent to four 55-inch 8K displays in a 2×2 matrix (or 16 27.5-inch 4K ones in a 4×4 matrix).
This is not the first 16K panel to be produced; Innolux, another major panel vendor, released a smaller 100-inch one back in August 2018 and both Sony and Samsung have modular 16K displays but with exorbitant prices (in the millions of dollars for the Crystal LED and The Wall). So the technology is not only proven and mature, it is also widely available. So what's the blocker?
 16K content, the missing link
16K smashes the 100 million pixel barrier, reaching more than 132 million of these tiny dots (15360 × 8640 pixels, that's a pixel density of 160 pixels per inch), which is a lot, especially for gaming and applications requiring high refresh rates; it is however only a matter of time before graphics cards reach that resolution. AMD announced back in 2016 that its ambition would be to deliver a graphic cards that can support 16K resolution at 240Hz. 
No graphics card currently support 16K: the closest one to do so is the recently released AMD Radeon Pro W7900 is the first of its kind that supports DisplayPort 2.1, a new standard that can drive up to 16K resolution but has been downgraded to 12K by AMD, probably because of performance.
There's simply not much to do with a 16K monitor or TV as there's hardly any content produced in that resolution. Not that it is impossible to do so; Sony had the technology to do 16K since 2014, almost a decade ago and a little known company produced Prairie Wind, the first 16K movie, using two Canon still cameras. 
And we can't possibly ignore the fact that 200-million pixel camera sensors have been available since 2019 and smartphones with 200 megapixel cameras are already here (e.g. Motorola Edge 30 Ultra). Could it be that what we have right now is good enough? 
The 8K mirage
It's all good that we're talking about 16K right now as we've yet to see any new 8K monitors (not TV) in the market. 
As I wrote earlier in 2023, I don't believe that 8K monitors will ever go mainstream. Dell's Ultrasharp UP3218 monitor was the first one launched and remains the only widely available 8K mainstream monitor, more than five years after it was released. I, for one, fear that 16K will only remain a pipedream because the market is too small to be relevant, with the majority of the worldwide content still produced, consumed and viewed at full HD, a resolution that's 64 times smaller than 16K.  Check out the short YouTube video below of the BOE 16K display.