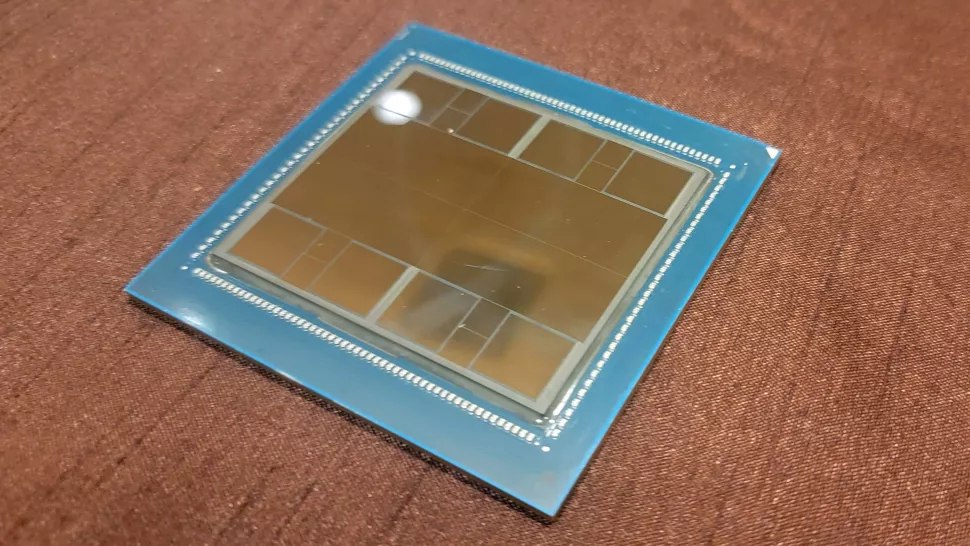 AMD's most exciting processor in recent years has to be the Instinct MI300, the first data center APU (Application Processing Unit), a silicon chip so advanced that it will be used to power the world's fastest super computer, El Capitan, an Exaflop-class behemoth expected to be launched later this year. 
Tomshardware's Paul Alcorn delivers a detailed exposé of what he calls, an incredible chip thanks to presentations that surfaced at the ISC 2023 and the ITF World 2023 conferences.
In a nutshell, the MI300 will come with a single slap that contains 24 CPU Zen 4 cores (probably a variant of the EPYC 9224) with CDNA 3 GPU technology and, wait for it, 128GB HBM3 (ed: imagine how fast Windows 11 would run in memory).
It will probably be the first modern x86 processor to add memory directly on the die, something that Apple already managed to do with the Arm-based M1 and the M2.
Bringing all the parts on one silicon area is the next logical step in processor development. Having a shared unified memory translates into lower power consumption and overall better performance. With memory on chip, latency is significantly reduced plus there's no issues associated with traditional, slot-based memory modules (cooling, physical space etc).
AMD's CEO, Dr. Lisa Su, shed more lights, in March 2023, on how and why the company wants to decrease the cost of transferring bits between the memory and compute with that unified memory architecture, a journey that started in 2011 with the first Fusion APU. The MI300 is AMD's first product based on that philosophy.
Apple's fiercest competition yet
You won't be able to buy the MI300 to fit in your PC; the market in AMD's bulls eye is the more lucrative enterprise/database/HPC. They're the one that – for now – will benefit the most from the extraordinary features that the MI300 is pioneering. Expect more variants to evolve from the MI300 over the next few months as AMD leverages its unique position to push the CPU+GPU+RAM triumvirate down its product pyramid.
In time, there will be a Pro version of this APU, one that may even power one of the best workstations in the future or a candidate to the best mini PC title. And this APU will be fast, very fast.
We don't know what sort of performance gains to expect from the MI300 but it is intriguing to see that the Lawrence Livermore National Laboratory (LLNL), the organizations that's commissioned the El Capitan, didn't go down the Arm route to achieve its lofty performance/power goals. 
Fujitsu's A64FX powered the Fugaku, the world's most powerful supercomputer at the time of writing and like AMD, used high bandwidth memory (HBM2), albeit a lesser amount and a slower version. The MI300 is the next logical step: more power (GPU), faster memory and more of it.