by Jill Ragar Esfeld
[email protected]
OVERLAND PARK — When emcee Christa Dubill asked at the end of the Gaudeamus gala Oct. 29, "Do we have a number for tonight?" she was met with a drum roll — literally. It came courtesy of Topeka's Mater Dei Grade School drum line, one of the highlights of the annual benefit.
"We have set a new Gaudeamus record tonight," announced the board chair of the Catholic Education Foundation Jeff Jaworski. "The 2022 Gaudeamus grand total is $2,443,000."
One hundred percent of that, Dubill added, would go directly to fund Catholic school scholarships.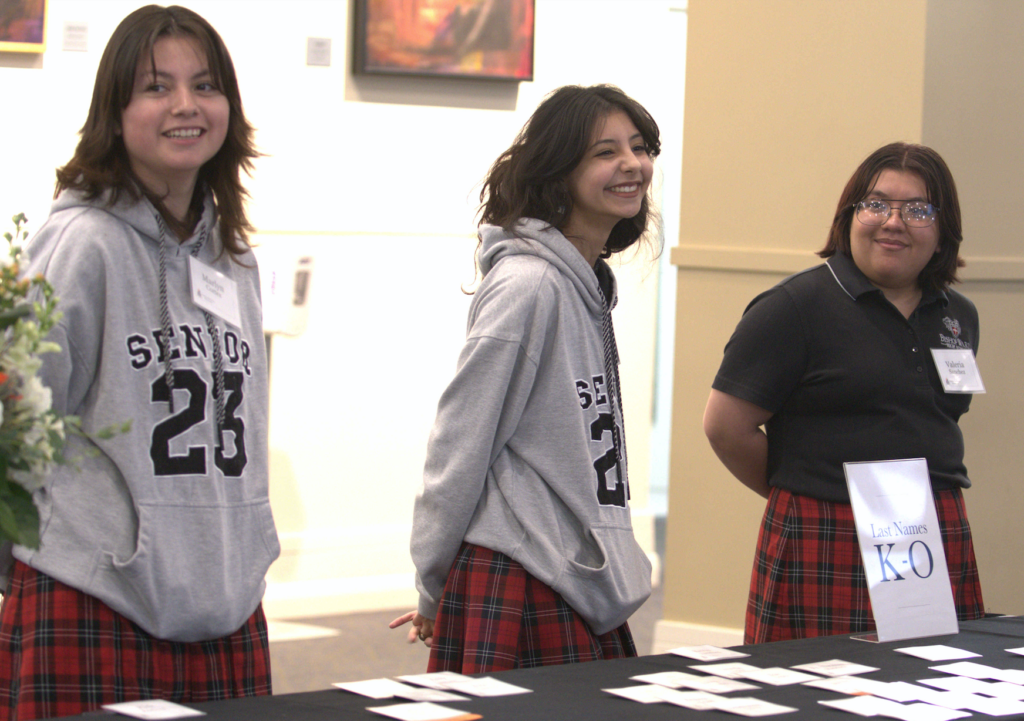 Twenty-five years ago, the founders of CEF had a simple vision of helping underprivileged children attend Catholic schools. They would be amazed at the results of this year's event.
Jaworski set the theme for this year's event, held at the Overland Park Convention Center, when he opened the evening by expressing gratitude for those founding members.
"Tonight is going to be another fantastic chapter in the story God's been writing for CEF," he said.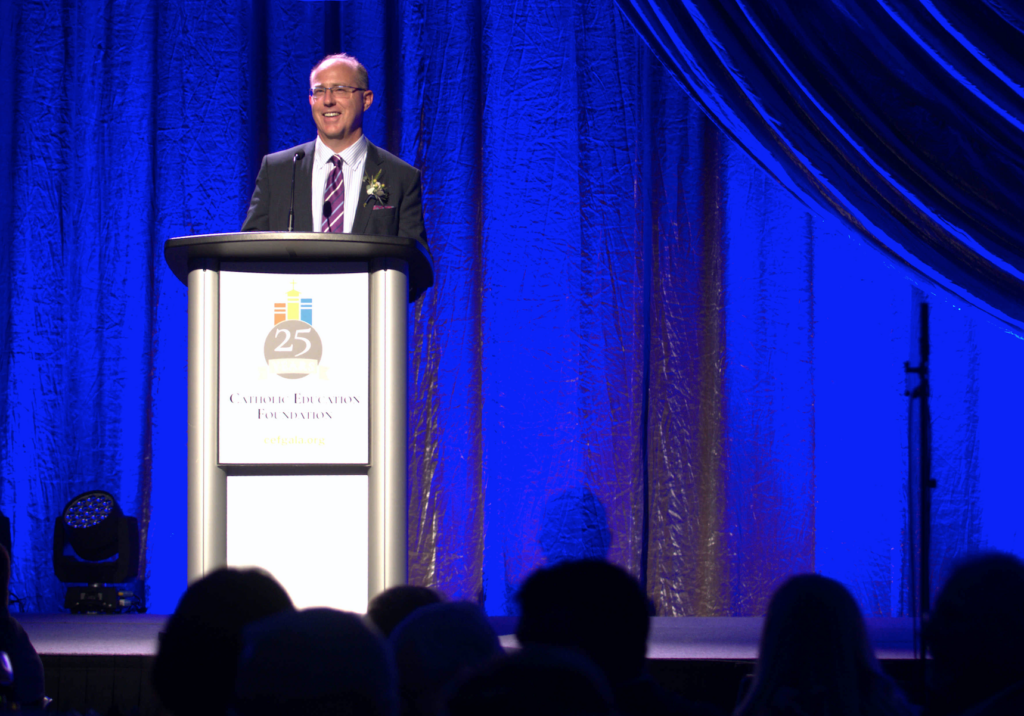 Reminding patrons that currently 300 children are in need of financial assistance, CEF executive director Vince Anch then introduced the evening's speaker, Vicky Simms.
Simms, a senior at Hayden High School in Topeka, began her Catholic school education in sixth grade at Holy Name School there.
"I was one of those kids who received a scholarship," Simms said in her introduction.
She went on to speak of the great impact the faculty and staff at her Catholic schools had on her life.
"My dream for the immediate future is to attend college," she said, "and major in communication with a minor in digital marketing. And become an architect. And become a radiologist."
The crowd laughed and applauded her momentous goals.
"Catholic education has shaped me into the person I am today," she said. "From the bottom of my heart, I want to express my gratitude to all donors.
"Your commitment to Catholic education changes lives like mine."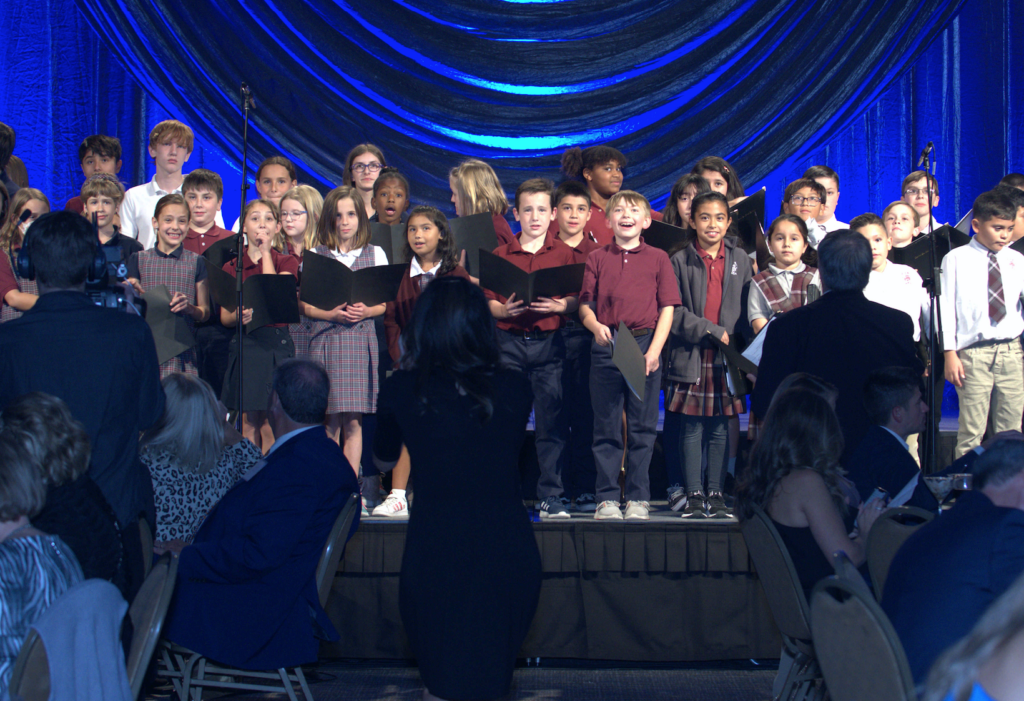 The evening had several highlights, including the Archbishop Joseph F. Naumann CEF School of Excellence award being presented to St. Gregory the Great School in Marysville.
And the inaugural CEF Lifetime Achievement Award recognized the organization's founders: Blake Mulvany, Tom Zarda, Rich Henry, Archbishop James P. Keleher, Sister Vickie Perkins, and Leonard and Ellen McKinzie.
CEF's first board chair and vice board chair respectively, Zarda and Henry, came on stage to accept the award and talk about the importance of the organization and the people who continue to support its mission.
"Our work is not finished," Henry said. "Not until every child who desires a Catholic education can receive one.
"That is the task we continue to be charged with this evening."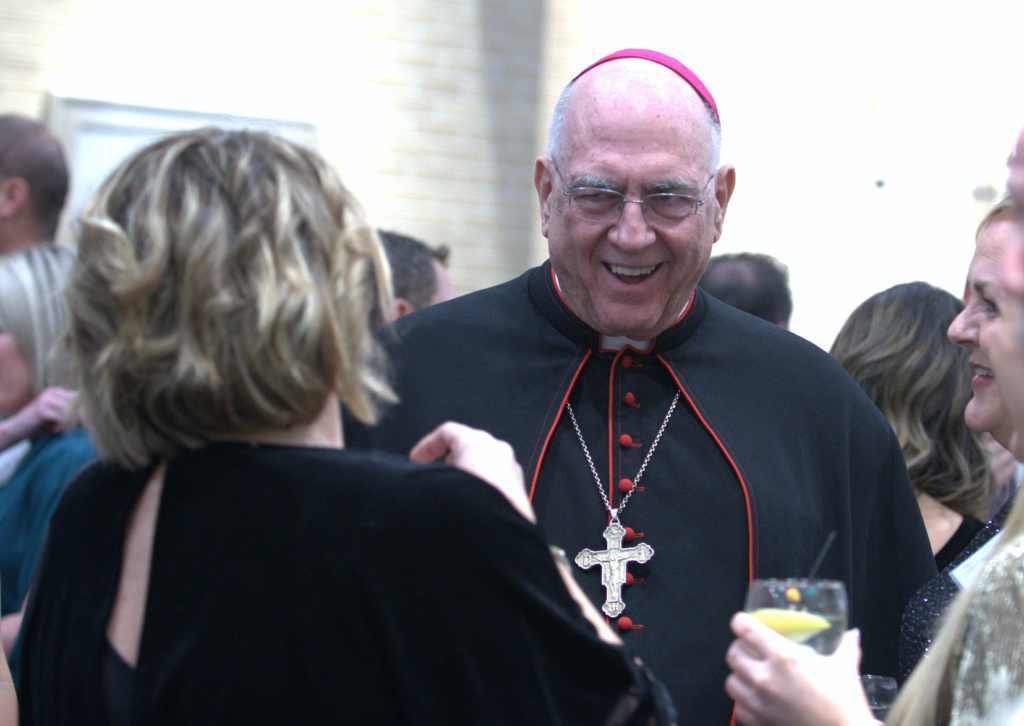 Zarda agreed, praising the efforts of Catholic school teachers and faculty and the critical part they play in the lives of children.
"I'm confident CEF will continue to grow," he said. "I'm confident every one of you and yours will help make that happen."
Archbishop Naumann closed the evening with a prayer and praise for all the people who have worked diligently to make the first 25 years of CEF a success.
"I've gotten to go to our schools and see some of the wonderful work that's happening," he said. "It's beautiful to see."
In addition to a quality education, the archbishop pointed out, our Catholic schools provide "an opportunity for our young people to know the Lord and to build a friendship with him."
That signals a promising future.
"Some of the great young people you are helping tonight are going to be future leaders in our community and our society and our church," he said.