The Taipei Game Show opened yesterday with large crowds of gaming enthusiasts visiting more than 1,000 booths featuring 275 vendors from 25 countries, while gaming companies from Asia expressed eagerness in forming partnerships with counterparts in Taiwan.
Gamers, cosplayers and businesspeople from the gaming industry took part in various activities at the 1,150 booths, which showcased new gaming products such as games and consoles, gaming peripherals and e-sports gear.
One of the major sections of the annual game show is the B2B Zone, where companies from countries such as Japan, South Korea, Singapore, Malaysia and the Philippines are looking to form partnerships with Taiwanese firms and clients.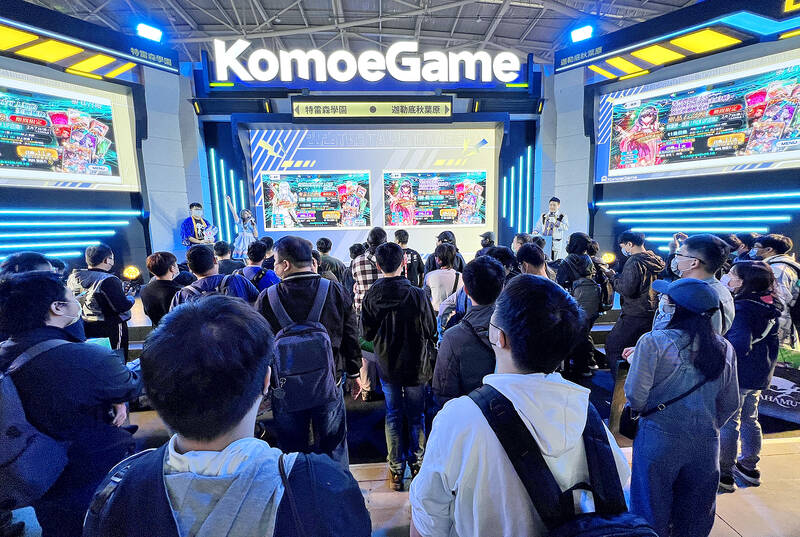 Photo: CNA
The B2B Zone features game publishers, payment service providers, sound production service providers, cloud integration providers and other companies throughout the game industry chain.
Aleson Buenavista, studio manager of Philippine art, animation and game development company Definite Studios, said that he wanted to make connections with Taiwanese companies that can offer game localization, and collaborate on art and animation.
Definite Studios currently has five projects on which it is working with Taiwanese companies, Buenavista said.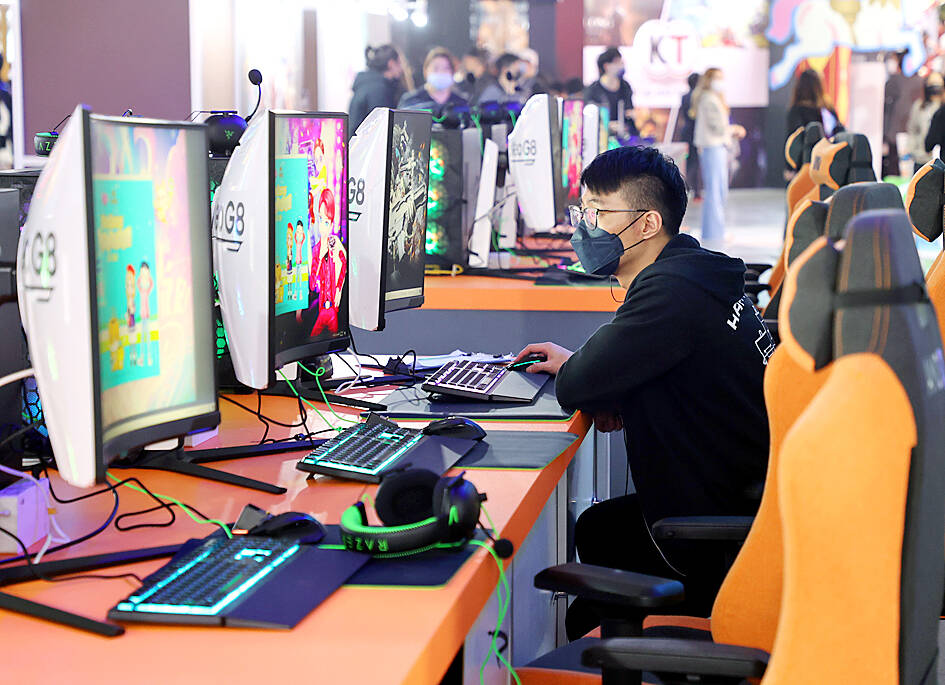 Photo: CNA
"It is very nice to talk to Taiwanese people and [Taiwan] is very near to the Philippines, so if there is any need for us to travel and check in with our client, it is very easy for us to travel, because it is only one and a half hours away from the Philippines," Buenavista said.
Another company, Ranida Games, is also at the B2B Zone promoting one of its action fighting games Vita Fighters in hopes of finding a partner to localize the game for the Taiwanese market.
Taiwan "has a very good fighting game community and has very good fighting game players. We would like to localize this, with traditional Chinese, so we can easily attract more players," said Walter Manalo, head of the company's business development.
The game has been downloaded about 200,000 times on mobile phone platforms in the Philippines and downloaded 800,000 times worldwide, Manalo said, adding that his company is looking for a company that can publish the game on a console such as PlayStation or Xbox.
Other games featured at the show include major names such as new action role-playing game Wo Long: Fallen Dynasty and the role-playing adventure Atelier Ryza 3: Alchemist of the End & the Secret Key.
The game show runs until Sunday at Taipei Nangang Exhibition Center's Hall 1.
Comments will be moderated. Keep comments relevant to the article. Remarks containing abusive and obscene language, personal attacks of any kind or promotion will be removed and the user banned. Final decision will be at the discretion of the Taipei Times.