The PC and mobile gaming market in India is projected to see a total of 396.4 million this year, generating a total player spending of $704.5 million, as per market research and consulting firm Niko Partners. The study noted that the Indian gaming industry is expected to see 630 million gamers by 2026, with a total player spending of $1.4 billion within the next four years, marking a compound annual growth rate (CAGR) of 21.1 percent. Niko noted that these numbers exclude revenue from real-money gaming, which is also a sizable part of the gaming market in India. 
India is one of the fastest-growing countries in Asia-10 (Chinese Taipei, India, Indonesia, Japan, Korea, Malaysia, Philippines, Singapore, Thailand, and Vietnam). The country leads the list in terms of revenue and gamers, as well as by average revenue per user (ARPU).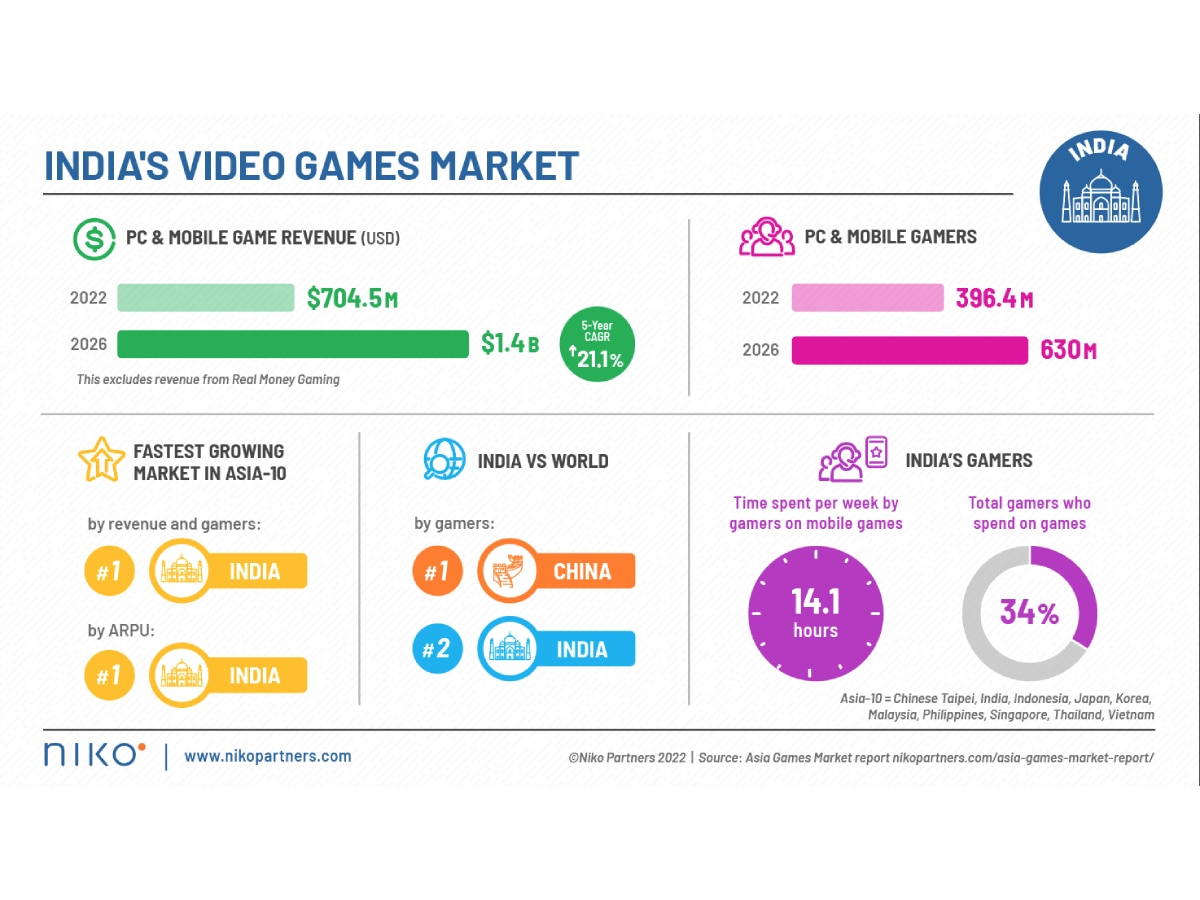 "India's nearly 400 million gamers account for over half of the 788 million gamers in Asia-10 and are a formidable force to be understood and served by developers and publishers," said Niko Partners President Lisa Hanson. "India has quickly become one of the most important markets that we track and is the fastest growing market by both revenue and gamers in the Asia-10 region."
China leads the global market in terms of number of gamers, with India coming in second. 
Being a mobile-first market, 98.8 percent of India's gamers are playing on the platform, accounting for 85 percent of the total market revenue. India's low data costs, which are in fact the lowest in the world, have aided that share. Gamers in India spend an average of 14.1 hours on mobile games per week. 
The Niko report also notes 34 percent of gamers in India spent money on games in 2022, marking an increase in number of spenders and higher spending per paying user. 
The recent ban of Battlegrounds Mobile India (BGMI) will result in a lower growth rate in 2023. Niko noted that the growth rate could further be impacted if more mobile games are banned in the coming year.