The House Education Committee voted Wednesday to advance an administration-backed school choice bill that would allocate a portion of per-pupil state funding to a savings account for parents to spend on private school tuition or other specified education expenses.
Secretary of Education Aimee Guidera spoke to the Republican-led panel before the vote in support of the legislation.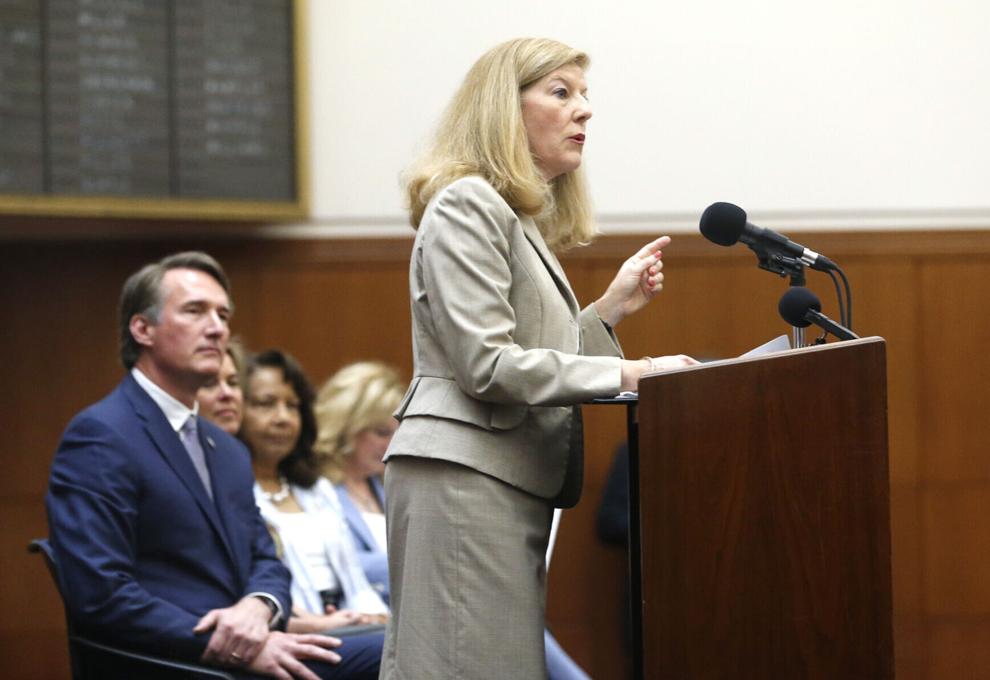 "We are at risk of losing a generation of children, especially those in our most traditionally underserved families and communities," Guidera said. "This is why Governor Youngkin is working tirelessly to restore excellence to education for all Virginians."
The committee voted 11-10 along party lines to report and refer the bill, patroned by committee chair Del. Glenn Davis, R- Virginia Beach, to the appropriations committee.

Parents expand class-action suit, claim state worked to deny rights of disabled students
The legislation would make government-authorized accounts, known as education savings accounts, available to parents of any Virginia child enrolled in a public school for at least one semester. Families would be able to spend the funds on tuition, fees and required textbooks at private K-12 schools in Virginia or on homeschool expenses.
Guidera said on Wednesday that the administration's goal is to make every school excellent, but parents cannot wait around for that vision to become a reality.

Senate education committee defeats GOP K-12 bills
"Every year that a child is condemned to go to a school that isn't adding value, or for whatever reason doesn't meet his or her needs, increases the likelihood of that child failing to learn, to drop out, to not be able to get a job, and to become another statistic on our unemployment list, our welfare rolls and in our jails," Guidera said.
Education savings accounts are slightly different from traditional voucher programs – which some courts have ruled unconstitutional – in the sense that the funds are deposited into parents' savings accounts rather than going directly to private schools.

Youngkin lauds proposal to expand Virginia Literacy Act to grades 4-8
The legislation will likely face an uphill battle in the Democrat-controlled Senate if it clears the Republican-led House.
"I'm hopeful that the voucher bill will die in the House and not make it to the Senate because common sense Republicans recognize that this MAGA extremist bill would defund our public schools, worsen student outcomes and lead to widespread fraud," said Del. Schuyler VanValkenburg, D-Henrico, in an interview.
Speaker Kevin McCarthy is reiterating that he will block Democratic Reps. Adam Schiff and Eric Swalwell of California from serving on the House committee that oversees national intelligence. He says the decision is not based on political payback but because "integrity matters, and they have failed in that place." In the previous Congress, Democrats booted Reps. Marjorie Taylor Greene of Georgia and Paul Gosar of Arizona from their committee assignments for incendiary commentary that lawmakers said incited potential violence against colleagues. McCarthy insists he is putting national security over partisan politics. But the Democratic lawmakers targeted say he has "capitulated to the right wing of his caucus."
Germany and the United States have announced that they will send battle tanks to Ukraine. It's the first stage of a coordinated effort by the West to provide dozens of the heavy weapons to help Kyiv break combat stalemates as Russia's invasion enters its 12th month. U.S. President Joe Biden said Wednesday that the U.S. will send 31 M1 Abrams tanks. The decision reverses months of persistent arguments by Washington that they were too difficult for Ukrainian troops to operate and maintain. Germany agreed to send 14 Leopard 2 A6 tanks from its own stocks. Germany had said the Leopards would not be sent unless the U.S. put its Abrams on the table.
A new report on mass attacks calls for communities to intervene early when they see warning signs of violence. The report also encourages businesses to consider workplace violence prevention plans and highlights the connection between domestic violence, misogyny and mass attacks. The report comes from the U.S. Secret Service's National Threat Assessment Center. The center's report analyzed 173 mass attacks carried out over a five-year period from January 2016 to December 2020 in public or semi-public places such as businesses, schools or churches. The U.S. is experiencing a particularly deadly start to the new year with 39 people dead in six mass killings.
Officials say an agricultural worker killed seven people in back-to-back shootings at two mushroom farms that employed him in Northern California, and the massacre is believed to be a "workplace violence incident." The state is mourning its third mass killing in eight days. Officers arrested a suspect in the latest shootings on Monday, 66-year-old Chunli Zhao, after they found him in his car in the parking lot of a sheriff's substation. The Sheriff's Office says seven people were found dead, and an eighth was wounded, at the farms on the outskirts of the coastal community of Half Moon Bay.
Elon Musk has concluded his testimony in a federal trial over a class-action lawsuit that alleges he misled Tesla shareholders with a tweet about an aborted buyout. The billionaire insisted Tuesday in a San Francisco courtroom that he could have pulled the deal off if had he wanted. It's unlikely Musk will be summoned back to the witness stand during a trial expected to be turned over to a jury in early February. The trial hinges on whether a pair of tweets by Musk in 2018 damaged Tesla shareholders during a period leading up to his admission that the buyout he had envisioned wasn't going to happen.
Rescue personnel in California say they have found a 75-year-old hiker who was lost on the same snow-covered mountain where actor Julian Sands is missing. NBC LA captured images of Jin Chung, of North Hollywood, being loaded into an ambulance Tuesday afternoon. The San Bernardino County Sheriff's Department says he had a leg injury and some weather-related injuries but was able to walk. He was taken to a hospital but his condition was not immediately known. The search for Chung began after he failed to return from a hike Sunday on Mt. Baldy. Sands was reported missing Jan. 13 while hiking on the same mountain. Storms have coated the peak with heavy snow and ice and searches have been thwarted by the threat of avalanches and foul weather, including powerful winds.
The Justice Department and eight states have filed an antitrust suit against Google. The suit seeks to shatter Google's alleged monopoly on the entire ecosystem of online advertising as a hurtful burden to advertisers, consumers and even the U.S. government. The government alleges that Google's plan to assert dominance has been to "neutralize or eliminate" rivals through acquisitions and to force advertisers to use its products by making it difficult to use competitors' products. Google's parent company, Alphabet Inc., says the suit "doubles down on a flawed argument that would slow innovation, raise advertising fees, and make it harder for thousands of small businesses and publishers to grow."
Microsoft says it's seeing some improvements to its online services including the Teams messaging platform and Outlook email system after users around the world reported outages. In a status update, the tech company reported "service degradation" for a number of its Microsoft 365 services. Thousands of users reported problems early Wednesday with Teams, Outlook, the Azure cloud computing service and XBox Live online gaming service on the Downdetector website, which tracks outage reports. By later in the morning, it showed the number of reports had dropped considerably. The company tweeted that a network change suspected to be causing the problem has been rolled back and that some customers are reporting improvements.
A powerful storm system took aim at the Gulf Coast on Tuesday, spawning a tornado that caused damage east of Houston. The National Weather Service said that a "large, extremely dangerous and potentially deadly tornado" was on the ground near Baytown, about 25 miles east of Houston. The storm damaged commercial buildings, homes and power lines in nearby Pasadena, a city southeast of Houston. Several vehicles, including a trailer, were damaged or flipped over in a parking lot. There were no immediate reports of injuries. The storm system was also bringing snow and ice to much of the central U.S.
The sci-fi indie hit "Everything Everywhere All at Once" leads nominations to the 95th Academy Awards with 11 nominations. Nominations included acting nods for star Michelle Yeoh and Ke Huy Quan in a comeback performance decades after he starred in "The Goonies" and "Indiana Jones and the Temple of Doom." A year after a streaming service won Hollywood's top honor for the first time, big-screen spectacles dominated Tuesday's nominations to the 95th Academy Awards with the "Avatar" and "Top Gun" sequels getting best picture nods. Collectively, the best picture nominees have earned more than $1.5 billion domestically so far, which is a record.  The Oscars will be presented March 12 in Los Angeles.
Slick-fielding third baseman Scott Rolen has been elected to the Baseball Hall of Fame with five votes to spare above the 75% needed. The seven-time All-Star and eight-time Gold Glove winner appeared on 297 of 389 ballots cast by the Baseball Writers' Association of America for 76.3%. He becomes the 18th third baseman elected to the Hall, the fewest of any position. First baseman Todd Helton was second with 281 votes for 72.2%, falling 11 votes short, and reliever Billy Wagner third with 265 for 68.1%. Rolen had a .281 batting average with 316 homers and 1,287 RBIs with the Phillies, Cardinals, Blue Jays and Reds from 1996-2012.
Victoria Azarenka continues her quest for a third Australian Open title a decade after her last championship at Melbourne Park when she plays Wimbledon champion Elena Rybakina in one of two women's semifinals. No. 5-seeded Aryna Sabalenka plays unseeded Magda Linette in the other. Azarenka won the 2012 and 2013 titles in Australia but she has not been back to the final four since. Rybakina's path included victories against 2022 runner-up Danielle Collins and No. 1 Iga Swiatek. Sabalenka is 9-0 so far in 2023 and won both previous contests against Linette.
Tommy Paul has reached his first Grand Slam semifinal and ended the surprising run of Ben Shelton by winning their all-American matchup 7-6 (6), 6-3, 5-7, 6-4 at the Australian Open. Paul is the first man from the United States to make it to the final four at Melbourne Park since Andy Roddick in 2009. Paul will face 21-time Grand Slam champion Novak Djokovic in the semifinals Friday. Djokovic beat Andrey Rublev 6-1, 6-2, 6-4. Stefanos Tsitsipas and Karen Khachanov meet in the other men's semifinal Friday. Aryna Sabalenka and Magda Linette advanced to the semifinals with victories. The other women's semifinal is Victoria Azarenka against Elena Rybakina.