Residents in High River are vowing to halt the project in court, citing concerns over groundwater, odours, air pollution and impacts on property values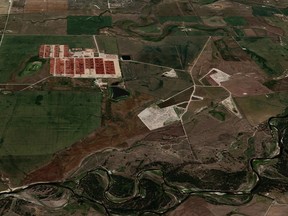 Article content
Opponents of a proposed waste processor near High River reject the company's claims the plant will benefit them and vow to halt the project in court.
Article content
Rimrock Renewables, which plans to annually process 80,000 tonnes of manure sourced from its nearby feedlot and 60,000 tonnes of produce scraps trucked in from Calgary, insists the $70 million plant proposed for a site five kilometres west of High River will actually reduce smells from its nearby livestock operation.
Article content
The company on Wednesday conducted its second public presentation in two weeks in hopes of assuring opponents of the so-called biodigester project, who fear impacts from the facility that'll produce renewable natural gas (RNG).
Residents concerned over litany of issues including groundwater, pollution and odours
But detractors aren't convinced, and they point to what they say will be a 14-hectare open effluent pond on the site — a feature Rimrock says will be closer to 10 hectares.
Article content
And on Wednesday, opponents said they don't trust those assurances, citing concerns over groundwater, odours, air pollution and impacts on property values.
"They have no baseline to go by and we're just fed a bunch of 'this is what we think will happen,'" said Benita Estes, who lives 200 metres from the 40-hectare site.
"Once it's built, it'll be too late … we're guinea pigs."
Estes noted Foothills County has waived its approval process until provincial regulators give the project a green light, calling that a betrayal of local residents.
"We've already retained legal counsel to repeal this because we have no confidence in Foothills County," said Estes, adding the project should be subject to the Alberta Energy Regulator because it's meant to produce natural gas.
Article content
Neighbours say the biodigester should be built in an industrial area just north of High River that already hosts the Cargill meat processing plant.
Rimrock attempts to assuage residents' concerns with slate of measures
The company says it plans to produce 520,000 gigajoules of RNG per year, or enough to meet the needs of 5,800 homes. Its parent firm Tidewater Renewables announced last fall it had reached an agreement with FortisBC to pay for that production of RNG over the next 20 years.
Rimrock officials and its consultants said on Wednesday the plant would reduce odours already produced by its adjacent feedlot by 42 per cent while its design will protect surrounding groundwater and the Highwood River 2.8 km away.
Article content
"Greenhouse gas emissions being released into the atmosphere will be captured by the biodigester … it's expected to have a positive impact on odours from the feedlot," said Denny Boisvert, Rimrock's director of capital projects.
Fertilizer produced by the plant will reduce local farmers' reliance on synthetic fertilizer and help meet future federal requirements to reduce use of the products in curbing greenhouse gas emissions, he said.
Pond liners and other measures will ensure water and slurries on the site won't leach into groundwater, said consultant engineer Reid Fothergill.
"All surface water will flow to the liquid digester pond and prevent runoff into the surrounding watershed," he said.
Resulting traffic on county roads, said a Rimrock consultant, would amount to 19 truck trips per hour and wouldn't require infrastructure improvements.
Article content
RNG plants have proliferated in Europe and are increasing in numbers in North America with few resultant problems, said company presenters.
'They will continue to hear from us'
But Deputy Reeve Rob Siewert said he's aware of negative issues arising from some of the facilities and questioned how stringently standards would be enforced with Rimrock's plant.
"I'm wondering what teeth does Alberta Environment and Parks have if things don't turn out the way we want," he said.
But project manager John Del Mastro said it's in the company's interest to operate the plant as a good neighbour.
"We have confidence in this team and our commitment to the community," said Del Mastro.
"This will not only reduce odours significantly but provide safe, renewable natural gas for years to come."
Article content
The plant's feasibility, he said, was made possible by the federal carbon tax and the market for selling carbon credits.
But a woman who lives 6 km from the site said she's disappointed nobody was able to challenge the company's assertions during Wednesday's hearing.
And Julia Allan said odours from Rimrock's 35,000 head-of-cattle feedlot that would supply the biodigester with manure is already a serious problem.
"They should never have been able to make an application (for the biodigester) until they controlled their feedlot smell," said High River resident Allan.
"They will continue to hear from us."
Foothills County officials have said they have little sway in the approval of the project but on Wednesday, country officials said it'll be subject to land use approvals if it's green-lit by provincial regulators.
On Wednesday, an official with Alberta Environment and Parks said the proposal is under technical review and a decision on a possible approval is expected this spring.
Twitter: @BillKaufmannjrn