BRAINERD — "A safe environment for students and staff is a prerequisite for learning."
It's part of the Lincoln Education Center's stated mission. Thanks to community support and a substantial donation from Sourcewell, Wade Haapajoki and his fellow staff teachers have that environment for their students at the Lincoln Education Center.
One of the last of the building projects resulting from the successful Brainerd Public Schools referendum in 2018, the new Lincoln Education Center is now housed at the previous south campus of Brainerd High School, serving special education students and hosting transitional programming.
"Every student has a right to learn and should be given an opportunity to do so," Haapajoki said during a dedication of the newly remodeled facility Tuesday, Nov. 22. "That's who we are. Students must learn to be responsible for their own behavior and their own learning. Students' needs are best met by individualization and flexibility of program."
Haapajoki is the lead special education teacher at Lincoln and spoke Tuesday about the importance of what goes on in the non-traditional school.
Staff at Lincoln provide special education services for students with emotional and behavioral disorders. They also lead transitional programs, such as ATLAS — Area Transition Learning and Skills — which provides services for students ages 18-21 who graduated high school and are now working to transition into post-education life.
ATLAS teacher Kati Reynolds said Tuesday the facility is modeled as more of a community setting for students rather than a traditional school.
"They had all completed high school, and we wanted them to feel like this is the next step in their educational journey," Reynolds said.
Kitchen settings help students learn to cook and plan their meals, while home-like settings allow them to practice household skills like vacuuming carpet and sweeping floors.
"This is an incredible facility," parent Derick White said.
White's daughter, Maddy, is an ATLAS student who has benefited from the services at Lincoln. Lessons in cooking, grocery shopping, laundry, finances and job hunting have helped Maddy learn independence.
"I think all of us that have special needs children want them to become as independent as possible," White said. "We want to give them the best chance to live the most independent life they can."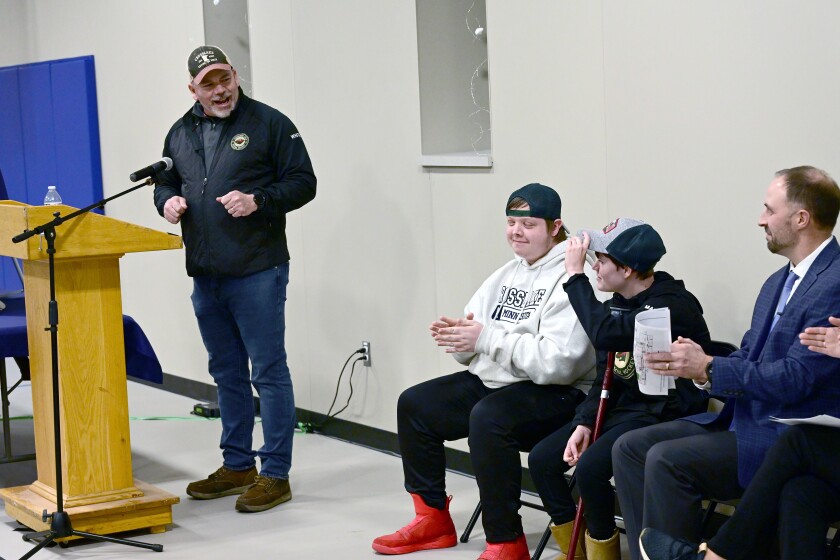 Thanks to the programming at Lincoln, White said his daughter applied for a job at Ace Hardware in Crosslake all by herself last year. She secured the job and worked there for a year before deciding to put new skills into action and take a job at Andy's Bar & Grill.
Students like Maddy White are why facilities to the caliber of Lincoln Education Center exist in Brainerd and across the region.
Before the remodeled facility, Lincoln Education Center stood on South Sixth Street. The 1938 building originally served as an elementary school before becoming home to special education programming. That building was demolished as part of the school district's referendum to make way for more parking at Brainerd High School and the new Gichi-ziibi Center for the Arts.
The original remodel plans for the high school's south campus were moderate, but thanks to funds from Sourcewell, the project turned into what it is today.
"We heard that there was a significant need across the region. We heard loud and clear that the current special education facilities just weren't cutting it," Sourcewell Executive Director Chad Coauette said Tuesday.
Coauette and his team contributed $5.2 million to the Lincoln project and more than $5 million a piece to similar projects in Little Falls, Wadena-Deer Creek and Walker-Hackensack-Akeley.
All of those funds went to Level IV buildings, which are facilities designed for students who receive special education services at separate school facilities for more than 50% of the school day.
"This is a great example of our board's commitment to take on the challenges within Sourcewell's five-county area of service," Coauette said in a news release sent out earlier Tuesday. "As an organization, we are service driven and dedicated to reinvesting in our cities, counties, schools, and nonprofits. By funding these facilities, the impact will be realized by the entire region, and we feel very good about that."
Amy Jordan, principal of Lincoln Education Center, certainly sees that impact for her students.
"We get to meet them where they are at, academically, socially, emotionally and behaviorally, which is what our programs are all about," Jordan said Tuesday.
A plaque commemorating the dedication ceremony sat in the gymnasium at Lincoln Tuesday night, serving as the backdrop for Maddy White and fellow ATLAS student Brandon Bartel to ceremoniously cut a bright blue ribbon to signify the building's grand opening.
THERESA BOURKE may be reached at [email protected] or 218-855-5860. Follow her on Twitter at www.twitter.com/DispatchTheresa.
window.fbAsyncInit = function() { FB.init({
appId : '290544173094708',
xfbml : true, version : 'v2.9' }); };
(function(d, s, id){ var js, fjs = d.getElementsByTagName(s)[0]; if (d.getElementById(id)) {return;} js = d.createElement(s); js.id = id; js.src = "https://connect.facebook.net/en_US/sdk.js"; fjs.parentNode.insertBefore(js, fjs); }(document, 'script', 'facebook-jssdk'));