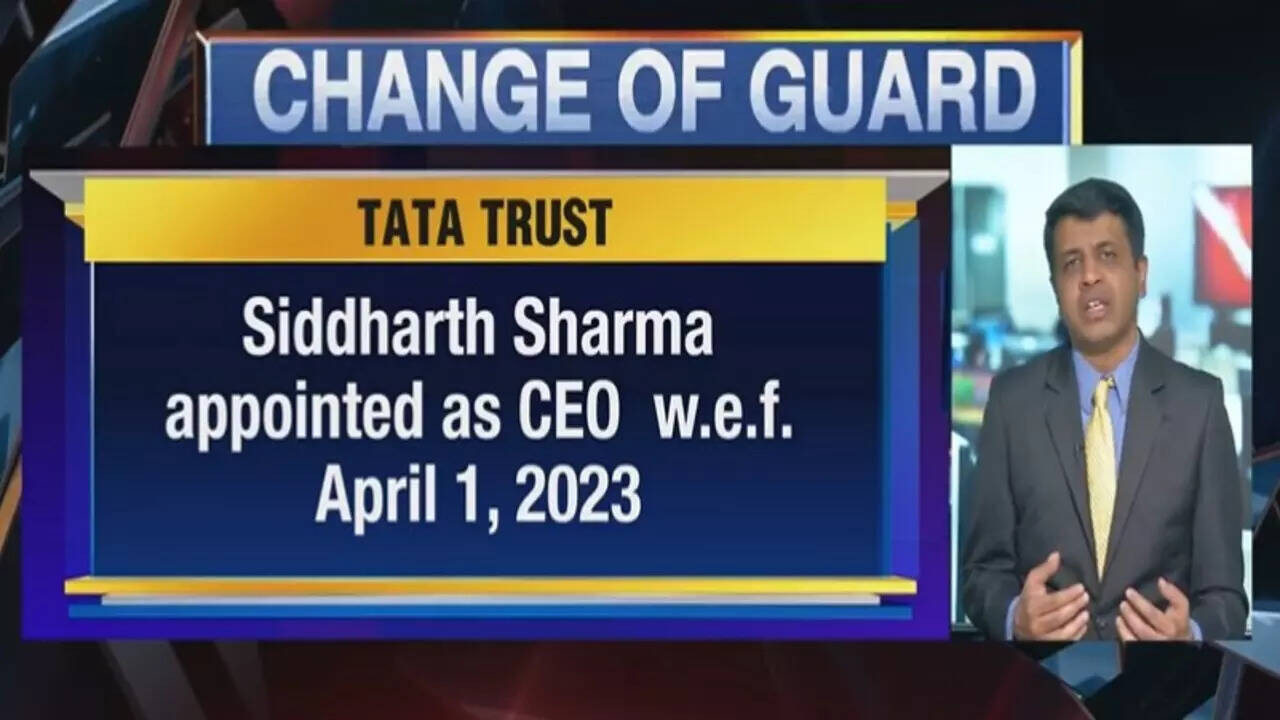 Siddharth Sharma appointed as Tata Trusts CEO, Aparna Uppaluri named COO – Who are they?
Photo : ET Now Bureau
New Delhi: In a change of guard at Tata Trusts, one of India's oldest public charitable foundations, Siddharth Sharma has been picked as new the Chief Executive Officer and Aparna Uppaluri as the Chief Operating Officer (COO). Both of their appointment will come into effect from the next financial year i.e. from April 1.
Tata Trusts, which owns a 66 per cent stake in Tata Sons, said in a statement on Tuesday. A few internal candidates were already being analysed by the foundations' board of trustees after Tata Group veteran Srinath Narasimhan retired on his superannuation at 60 in October 2022.
It had last month emerged that Siddharth Sharma, Tata Sons group chief sustainability officer (CSO), and Sukaran Singh, CEO of Tata Advanced Systems (TASL), were in the race to walk into the corner office.
Who is Siddharth Sharma?
After being in the government service for two decades, Sharma became a part of the Tata conglomerate in 2019. As a bureaucrat, he had worked in key ministries and government departments, including the ministries of finance, external affairs and urban development and played an important role in conceptualising and implementing pension reform in India in the form of the National Pension System.
He has also worked as the financial advisor to the 13th and 14th Presidents of India. Sharma was the financial advisor to the late President Pranab Mukherjee in 2012-17. He then got associated with the salt-to-airline conglomerate where he has been heading the newly formed sustainability portfolio.
Currently the group CSO, Sharma is responsible for supervising ESG (environmental, social and governance) initiatives and in that capacity heads the Tata Sustainability Group and chairs the Tata Group Sustainability Council, reported Economic Times.
#NewsAlert | Siddharth Sharma appointed as CEO of the Tata Trusts w.e.f. April 1, 2023, Aparna Uppaluri appointed a… t.co/YNTxJqkfAn

— ANI (@ANI) Jan 24, 2023
Who is Aparna Uppaluri?
Set to take over as the COO of Tata Trusts, Uppaluri comes with an experience in strategic planning and programme development in the fields of philanthropy, women's rights, public health, arts, and culture. With over twenty years of leadership and management experience, she has led the grant making initiatives at the Ford Foundation to advance programmatic commitment to strengthen gender justiceand has also served as program director to oversee different verticals at the Ford foundation.
Meanwhile, Tata Trusts in 2020 had named S Narasimhan as its first CEO, marking a shift to a more professional management style.
In August last year, the foundation had amended its Articles of Association which separated the Chairman of Tata Trusts from the Chairman of Tata Sons, meaning that these would be two separate posts. Currently, Ratan Tata is the Chairman of Tata Trusts.